Chaumont Barrens Tour Pictures
A special thank you to local naturalist Julie Covey! Julie hosted a 1.7 mile walk on the trail at the Chaumont Barrens for the library. Below are some of her pictures of native flora and fauna in the unique alvar environment taken during the tour on June 1st.
Summer Reading 2019
Get ready for take off! The NYS Summer Reading Program has a SPACE theme this year! Learn about the planets and stars with Judi & John Rusho , create stories with Christine from The Adirondack Experience, make inked sun catchers with Melissa Green from Stolen Moments, create crafts with Tracey Jean and of course, lots of reading! Simply choose a selection of books that interest you, keep track of what you read, attend at least 3 sessions, and earn a Barnes & Noble Gift Card! 
For children entering grades 1 to 5.  All sessions begin at 10:30.
July 9th & 23rd. August 6th & 20th.
Registration required. Please call 315-649-5454 by July 1st to register.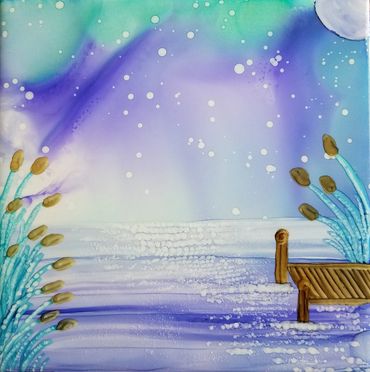 Inked Tile Class - Lake Scene
Wednesday, July 10th at 6:30.
The class is $40 a person which includes all of the supplies. Pre-registration is required as space is limited. Follow the links from the Lyme Free Library Facebook page or stolenmomentsart.com to register. Debit, credit, and PayPal payments are welcome. Presented by Melissa Green. 
Starting May 28th
Needlework by the Books!
Join us on Tuesdays from 1 to 3.
Whether you knit, crochet, quilt, cross stitch, needlepoint, etc., or want to learn how, we would enjoy your company. Bring your current projects, triumphs, problems and questions. 
Hosted by Nancy McDonald.
  Essential Oil Workshops
Blending Essential Oils - June 14th.
Essential Oils Make & Take - details to be announced - July 26th.
Essential Oils Emotional Health - August 16th.
Registration required, please call 315-649-5454.
 All sessions start at 6:30pm. Presented by Sarah Bullock.
Art & Antique Auction begins June1st.
Stop in and place a bid!
Ends August 10th at 2pm.
Donations gladly accepted.
August 10th 9am to 3pm
Art, Books, Silent Auction, Baked Goods & more!
Free spaces (limit 2) for Artists, Crafters & Authors.
Call 315-649-5454 to reserve your spot.     
Sidewalk Chalk Art
Join artist Tracy Jean on the library walkway to create works of art! Wednesday, August 7th at 1 pm. Donations are appreciated and will be used to benefit future art programs for children. Time and supplies donated by Tracey Jean, Arts of The Bay.
Creative Card Classes with Char Dwyer Begin in June!!
Cardmaking classes will be held on the third Tuesday of each month at 10:30 AM. You will be creating two cards . If you have a favorite adhesive please bring. All supplies will otherwise be provided. The cost is $3.00 a card. The class is limited to 10 people. Please call the library and reserve your spot by the Friday before class. Hope to see you there for some creating.  Please call 315-649-5454 to register.
A Special Farm Animal Storytime
hosted by Northern Credit Union
Ages 3 to 8. Registration required.
Please call 315-649-5454.
July 20th at 10:30 am
Stories, Crafts and More!
Lyme Free Library Book Discussion Groups
There are copies of all of the book club books on hand at the library.
Please ask for a copy at the desk.
Culinary Book Club
Last Friday at 6:30pm
June - Garden Spells by Allen
July -  Blueberry Muffin Murder by Fluke
 Afternoon Book Club Meeting
Meets Fourth Tuesday at 2pm
 June -  Being the Change by Kalmus
July - Something in the Water by Steadman
August - I Feel Bad About My Neck by Ephron
Evening Book Discussion Group
June 18, 2019:  Eleanor Oliphant Is Completely Fine novel by Gail Honeyman
July 16, 2019:  Educated memoir by Tara Westover
August 20, 2019:  The Great Alone novel by Kristin Hannah
September 17, 2019:  Remarkable Creatures novel by Tracy Chevalier
October 15, 2019:  Peace Like a River novel by Leif Enger
November 19, 2019:  Fahrenheit 451 novel by Ray Bradbury
December 2019:  no meeting
January 21, 2020:  The Unlikely Pilgrimage of Harold Fry novel by Rachel Joyce
                                                         Book Talk meets on the third Tuesday of each month at 7pm. Please join us!       
O'Reilly Prints Make Wonderful Gifts!
Give as is, or frame for an extra special gift!
The prints include beautiful renditions of local landmarks in Cape Vincent, Chaumont, Watertown and surrounding areas.  Framed originals of some pictures are also available. All proceeds benefit the library! 
                    Maine Prints - Over 100 different prints, Maine Coastline, Seaside Villages, Lighthouses... Available to view at The Lyme Free Library in Chaumont during business hours.
Monday 10 to 4, Tuesday 10 to 8, Wednesday 10 to 6, Friday 10 to 4 & Saturday 10 to 4. 
 Bake Sale at the Library 
Delicious treats by Cathy Gallagher from the Cottage Bakery and Desserts by Design! 
 A portion of the proceeds will be donated to the library. Available during business hours.
Monday 10 to 4, Tuesday 10 to 8, Wednesday 10 to 6, Friday 10 to 8, & Saturday 10 to 4.
Sail into Reading Story Time
Story Time for children ages 3 to 5. Lyme Free Library story time is a fun learning experience that parents and children can share together.  Sessions include stories, songs, finger plays, and crafts for children.  Please join us on Wednesdays at 11 am. 
Celebrate Shark Week with Us!
                        Join us at 1pm on Friday, July 26th to make a creative newspaper shark picture.                                   Registration required. Please call 315-649-5454.
Cubelets Workshop - Three Dates - Choose what works best for you!
Cubelets are robot blocks that make it fast and easy to engage children in learning by building robots. There's no wrong way to build with Cubelets, so it is remarkably easy to transform these blocks into brilliant bundles of robotic curiosity. You don't need to know how to code or wire to construct robots with Cubelets. Snap the robot blocks together and the magnetic faces do the rest. Every unique arrangement is a new robot with novel behaviors emerging from the construction. They can carry out a variety of actions; following directions to drive, spin, light up, or make sounds. Logical thinking, patterns and sequencing are developed as children problem solve to put together their creations. Free. Limited to 6 participants. Registration required. Please all 315-649-5454 to register. July 30th, August 2nd or August 5th 1 to 3 pm.
Astronomy Classes 
Presented by John Rusho - Free - Please call 315-649-5454 to register.
Class times: Indoor 7 to 8:00 PM at Lyme Free Library, followed by an outdoor session from 8:15 to approx. 10:00 PM. Class is intended for 12 years and older. Please call 315-649-5454 to register.
August 2nd
Introduction & Course Overview – Earth/Moon demo, astronomical distances, Constellations, Apparent Sky Motions, Solar & Lunar Motions, Seasons. Outdoor: Cardinal Points, Altitude-Azimuth system, Apparent Sky Motions, Begin constellations, basics of locating and identifying, Seasonal rising & setting points of Sun, also Sun's altitude and time in sky.
August 9th
Brief history of Astronomy - Classical Greeks, Aristotle, Ptolemy, Renaissance - Copernicus, Tycho, Kepler, Galileo, Solar System - General, Terrestrial & Jovian Planets, other Objects. Outdoor: Constellation Mythology and their meaning today, Finding & observing planets.              
August 16th
Binoculars and Telescopes - common designs & mountings for amateurs (brief overview). Outdoor: Using telescopes, Viewing planets (Venus, Jupiter, possibly Saturn) What is deep sky and what do you see? 
August 23rd
The Stars – Their Properties, Distances, Stellar Patterns – The H-R Diagram, nearby vs. bright stars, Our Galaxy – The Milky Way. Outdoor: Star colors and meaning, Observe star clusters and nebulae.     
​
Stolen Moments Ink Flowers Class
Participants will learn how to use alcohol ink and forced air to make beautiful flowers on yupo paper. You will make two 5x7 paintings and mat them to 8x10. The class is $40 a person which includes all of the supplies. Pre-registration is required as space is limited. Follow the links from the Lyme Free Library Facebook page or stolenmomentsart.com to register. Debit, credit, and PayPal payments are welcome. Presented by Melissa Green.  Friday, August 2nd at 6:30.
Paper Clay Classes
Paper Clay classes with local artist Tracey Jean. August 14th Create. August 28th Paint.
Both start at 1 pm. $15 per child for both classes. Please call 315-649-5454 to register.
Mother's Day Tea a Huge Success!
A special thank you to Cathy Gallagher from Desserts by Design and The Cottage Bakery for her hard work in making our Mother's Day Tea a wonderful experience for all! Our guests were pleased with how great everything was especially the delicious desserts.  Cathy did a remarkable job! Her grandchildren Thomas & Samantha were a great help! This was an important fundraiser for the library – we would like to thank everyone that took part and supported the library.       
New Books by Local Authors
Chris Dutcher & Robert Egby
Available on Amazon
 Storm Rider by Chris Dutcher - Twenty-two year old Gunnar is exploring the US by motorcycle, taking odd jobs along the way. One particular odd job lands him in trouble with several different factions of local organized criminal bad guys. On top of that, the cops and the feds can't decide whether they want him dead, gone, or incarcerated.
The Silent Killer Below by Robert Egby -  This book is about a phenomenon called Geopathic Stress. It occurs when soft beneficial magnetic energy generated at the Earth's double core passes through subterranean water veins flowing over clay, broken rock, and fissures and turns toxic. If humans and animals spend time on such zones, their immune systems suffer and sickness sets in.      

Library board meetings are held on the second Monday of each month.
Changes and cancelations will be posted on our website.
New This Fall!   
Books on the Bus!
This fall Lyme Central School students will have the opportunity to access books provided by The Lyme Free Library on their bus rides to and from school. Many thanks to The North Country Library System and Lyme Central School for their support!
The Lyme Free Library Board of Trustees and staff would like to express their appreciation for the generous donations from the sponsors of our Summer Reading Program. Our benefactors include: Stewart's Shops, Advanced Business Systems, Cleveland Funeral Home, Wise Guys, Citizen's Bank, Watertown Savings Bank, Art of Fire Lyme Heritage Center &  the Duck Out Ice Cream Shop.  With their support we were able to offer exciting events and incentives to keep kids engaged in reading and learning all summer long!
Pictures from our trip to
Art of Fire
on Point Salubrious
A special thanks to Foster & Theda!!
More Pictures on our Facebook Page!
Massey's Furniture Store Donates $928 for Children's Books!
New Books are on the Shelves and Ready to Go!
Lyme Free Library was delighted to be the first public library to receive a donation from Massey's Furniture Barn's Bucks for Books program. $928 were donated for the purchase of elementary-level library books. We appreciate the investment Massey's is making in our communities!
Free Kid's Raffle at the Library!
                           Each time a child checks out a book at the library, they may enter their name for a free drawing for a $10 gift card to Barnes & Noble Bookstore.                                                 Drawings will be held on the last day of each month through December 2017.
NCLS LAUNCHES NEW
APP!
  North Country Library System patrons will now be able to access the organization's entire catalog right from their smartphones. The App allows patrons to search for and reserve books across the system and manage their account. It can  act as a digital library card, as it is able to be scanned to check out books. The app has information on all 65 branches in the system, including hours and locations. The calendar feature, which sorts events by county, allows patrons to explore neighboring libraries. Our favorite feature is the ISBN scanner. If you see a book in a store you think you might like to read, scan the barcode on the book and it will tell you if it's in our catalog. The North Country Library System app is available to download for free on Apple and Android devices.             
Free Online Music and Art Instruction
ArtistWorks for Libraries provides patrons with free world-class instruction through self-paced video lessons from Grammy Award-winning music and artistic professionals. Simply  click the ArtistWorks button on the right hand side of this page to get started. A library card is needed to create an account.
ART: Art Lessons. CLASSICAL: Piano Lessons, Classical Guitar Lessons, Flute Lessons, Clarinet Lessons, French Horn Lessons, Trumpet Lessons, Violin Lessons. BASS: Electric Bass Lessons, Jazz Bass Lessons, Bluegrass Bass Lessons. BLUEGRASS: Banjo Lessons, Mandolin Lessons, Fiddle Lessons, Bluegrass Guitar Lessons, Dobro Lessons, Bass Lessons. GUITAR: Rock Guitar Lessons, Bluegrass Flatpick, Guitar Lessons, Jazz & More Guitar Lessons, Bluegrass Dobro Lessons, Fingerstyle Guitar Lessons, Classical Guitar Lessons, Jazz Guitar Lessons, Blues Guitar Lessons, Acoustc Guitar 101. HARMONICA: Harmonica Lessons. PERCUSSION: Library Exclusive Percussion Lessons. PIANO: Popular Piano Lessons.
Board Meetings
 The Board of Trustees of Lyme Free Library meets on the second Monday of each month at 6pm. All meetings are open to the public.
Changes will be posted in the Library and on our web site lymefreelibrary.org.
Free Daily Tumble Book!
Tumble Book Library is an online collection of animated, talking picture books which teach young children the joys of reading in a format they'll love. Lyme Free Library is now offering a free Tumble Book each day on their website. Just go to lymefreelibrary.org, scroll down and click on the TumbleBook Library Button.